Time Frame
On the scale from here to eternity, we cover the middle range.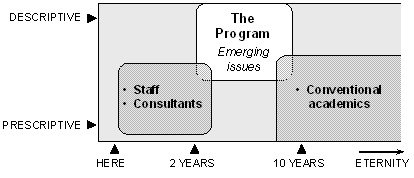 We supply contextual descriptions or peripheral vision, more decision-oriented than conventional academic research, wider ranging and with greater continuity than conventional staff or consultant assignments. We neither predict nor prescribe specific outcomes. We generally work beyond "firefighting" range, close enough in for problems and issues to be of concern, remote enough for them not to be foreclosed. We do not aim to provide the latest "news flash" but, instead, the context into which that news flash fits. Current events change very quickly—underlying forces and trends much more slowly.
We serve you by providing useful early warning.
---
PIRP Homepage | About the Program | In a Nutshell | Mission, Goals, Strategies, Assumptions | Affiliation
Impartiality | Competence | Confidentiality | Time Frame | Fields We Till | Audiences | Fact-Finding | Compliments